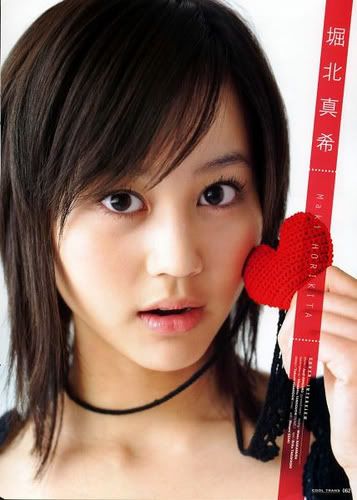 Maki Horikita Profile

Maki Horikita (堀北 真希 ,Horikita Maki?, born October 6, 1988, in Kiyose, Tokyo) is a Japanese actress. Maki Horikita started her acting career in 2003 as a U-15 idol and has since starred in a number of Japanese television

Biography

Childhood

Maki Horikita was born the eldest of three girls on October 6, 1988 in Kiyose, Tokyo, Japan. She had been boyish during her childhood days. In middle school, she enjoyed playing basketball and baseball with her friends on holidays. as well as the captain of a basketball team. When she had been in junior high school, she preferred playing Dragon Ball Z with the boys than playing dolls with the girls. This was because with the girls, she couldn't play the role of a princess the way she wanted to in the princess make-believe game.

When she attended as a guest on KAT-TUN's variety show, Cartoon KAT-TUN, she stated that she loved imitating her mother when she was younger.

Education

During junior high school, Maki served as the vice-president of their student council and the vice-captain of the basketball club. She was also described as the "Boss of 3-C" in a number of various writings, in recognition of her status as the class leader. As she became more active in the entertainment industry though, she put her club and council activities on hold. Being unable to meet her many commitments and after much deliberation, she finally withdrew from her school activities, concentrating only on her studies and her career.

After completing her senior high school education, she passed the entrance examination for Chuo University. Maki had been asked if she would pursue Law, as Chuo University is famous for its Law School, but it has remained uncertain whether she will study Law.

Career

Modeling

Horikita started modeling as she appeared for various advertisements in 2003, and took on roles in TV dramas and films in supporting roles. Her first photobooks featured her as a mild-themed gravure model. However, her career in the said modeling field had been short-lived as she gradually dropped gravure-themed modeling just when she started to get busy with TV appearances.

Her well-known commercials are her advertisements for Fujifilm (wherein she appeared alongside Japanese idol Tomoya Nagase) and Lotte (particularly for its sub-brands Ghana and Airs). Her current advertisements for the said chocolate brand are its Ice Yogurt and Shasha. In 2008, she had been chosen as Honda Cars Japan's endorser of STEP WGN.

Horikita has appeared in numerous men's and teenage magazines, most of them featuring her on the cover. Her semi-nude photoshoot in the October issue of AnAn Magazine and her latest photobook, entitled S, were both released in October 2008, in time with her twentieth birthday — an age in Japan that formally inducts a teenager as an adult.

She has also been featured in the cover of First Kiss, a compilation album of 15 songs from female artists released in the late 90's. The album aims to evoke a person's memories of their first kiss, with the songs having been chosen through a survey of women in their twenties. The album includes songs from Hikaru Utada, Ringo Shiina and The Brilliant Green. Horikita was enlisted to appear on the CD jacket through the same survey, and turned out to be the most popular choice among the young actresses of the present that reminded the respondents of themselves when they had their first kiss.

Maki also ranked in Nihon Monitor's Most Popular Personality in TV CMs for 2008, penetrating the list of the Top 10 female endorsers for 2008 with 10 different CMs under her belt.

Media

Currently, Horikita is a constantly praised U-20 Japanese idol, her rise to fame seemingly gradual but certain.

Movie and television

Although Horikita had appeared in various commercials and dramas she gained much recognition in 2005 from her back-to-back TV dramas, Densha Otoko and Nobuta wo Produce. Her exemplary portrayal of the shy Nobuko Kotani in Nobuta wo Produce bagged her a Best Supporting Actress award in a Japanese award-giving body. The role propelled her into popularity and she starred in a TV special, Tsubasa ni Oreta Tenshitachi (Wingless Angels), a four-night special that featured four of the most popular young Japanese actresses, in different roles that depict the darker reality of the lives of young Japanese women in present time.

On the other hand, the chemistry between her character, Nobuko, commonly known as Nobuta, and Akira Kusano, played by Japanese idol and NEWS member Tomohisa Yamashita, was recognized as well, leading both of them to star in another drama, Kurosagi. Playing the role of Tsurara Yoshikawa, a law student who disapproves of Kurosagi's swindling ways and who, ironically, falls in love with the con artist, Horikita bagged her second Best Supporting Actress award from the same award-giving body for her performance in this drama. Producers and scriptwriters have recognized her acting skills and soon she was given the lead role for Teppan Shoujo Akane, and the role of a mastermind bully who pulled the strings from behind a class of rebellious students in the drama Seito Shokun!. She was also part of the Japan-South Korea collaboration movie, One Missed Call: Final, third and last of the One Missed Call franchise, with Meisa Kuroki and Jang Geun-suk.

Come 2007, her role as Mizuki Ashiya in the Japanese drama adaptation of the gender-bending manga Hana-Kimi, or Hanazakari no Kimitachi e, earned her a Best Actress award; her first one to date. Towards the end of the series, Horikita has been attending press conferences here and there for her three upcoming projects: the Taiga drama, Atsuhime; the suspense movie where she plays the lead character who has multiple personality disorder entitled Tokyo Shōnen, and the sequel to her breakthrough movie, Always: Sunset on Third Street, Always: Zoku Sanchome no Yuhi.

All her exceptional work paid off when Horikita was chosen by Vogue Nippon as one of its eleven recipients of the prestigious Women of the Year award for 2007. Other recipients of the same award include Ayase Haruka and Anna Tsuchiya.

Early 2008, Maki had been chosen as the lead actress for NTV's two-part, four-hour special, Tokyo Daikushu, which was televised on March 17 and 18, 2008. The drama was a special commemoration of Japan during the World War II era, when Japan had been under siege. Alongside actor Tatsuya Fujiwara of the Death Note fame, she played the role of Haruko Sakuragi, a nurse whose father had been killed years prior, when his factory had been bombed. Fujiwara, on the other hand, is the man who saved her during her father's death, and who is later on brought into a hospital as a patient with a heart condition, where the two once again cross paths. Other actors in the drama special include Eita, Yuki Shibamoto, Ryoko Kuninaka, Hiroshi Tachi and Miki Maya, with the drama's music composed by Yoshiki of the legendary rock band X-Japan.

Two years after starring in Kurosagi, TBS brought the television drama to the silverscreen and Horikita reprised her role as Tsurara Yoshikawa in Kurosagi. The movie was said to have earned approximately 15.5 million US dollars, whereas the movie had been filmed with only a budget of 2 million US dollars.

October of the same year, she was once again seen on television opposite Yuzu's lead vocalist Yujin Kitagawa, leading the cast of FujiTV's golden time slot in the drama Innocent Love. Maki played the tragic heroine, Kan'on Akiyama, a young woman who sought a better life away from her hometown without people judging her based on her family background, only to find love in the form of a church pianist, played by Yujin Kitagawa.

She also appeared in the TV Asahi special that was aired in December, Danso no Reijin as Ri Kouran, a famous actress in China and the United States during the 1950s, while the lead role of Yoshiko Kawashima, announced earlier that year, had been taken by Meisa Kuroki. Ri Kouran, whose real name was Yoshiko Yamaguchi, had been rumoured to be closely linked to Kawashima at one point.

Towards the end of the year she had once again been chosen as the lead actress for a movie, this time a Hollywood-Japan collaboration movie directed by internationally-acclaimed director and self-confessed Japanese culture fanatic, Hans Canosa. She had been casted as Naomi, the female protagonist of Nakushita Kioku, the film adaptation of Gabrielle Zevin's popular novel, Memoirs of a Teenage Amnesiac (2007).. Ken'ichi Matsuyama and Jpop group NEWS' member Yuya Tegoshi also appear in the movie, which is slated to premiere on Fall 2009.

Radio

Horikita is also one of the six young female hosts of the radio show, GIRLS LOCKS!, a sub-portion of the Japanese radio program, SCHOOL OF LOCKS!, broadcasted by tfm. She usually gives her letter-senders a call as a form of reply and gives book recommendations to her listeners. Her stint is at ten in the evening, every third or fourth week of the month. Other hosts of this radio show include Yui Aragaki, Erika Toda, Chiaki Kuriyama, Nana Eikura and Riko Narumi.

Voice Acting

She has also debuted as an anime seiyu for a Doraemon animated movie, Nobita and the Green Giant Legend 2008 as the young princess of the "Green Planet," who transfers all of Earth's plants there because of the Earth's advancing environmental destruction.

On January 20, 2008, she did a public 'after-recording' at a studio in Meguro, Tokyo for the Doraemon movie, along with other guest voice actors like Maria Genesis (GT). She already has done a voice recording for a video game series, Professor Layton series since 2006, but she said it's harder to get used to dubbing in the animation, than it is for the game. She was asked who, in the Doraemon series, is her favorite type of a boy. She replied that she has a lot in common with Nobita; a similar interest in sleeping, string figures, and shooting (as seen in western movies).

Early 2009 she had also brought Japanese voice to the Belgian 3D animated movie Nat's Space Adventure 3D/Fly Me to the Moon, her voice being used as the voice over of the protagonist, a young male fly who was determined to explore the outer space.