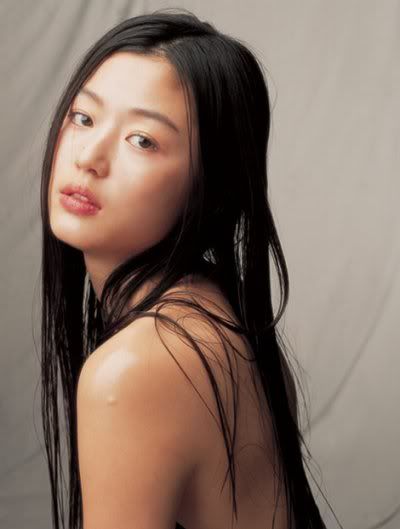 This stylish, sexy and pretty gal from the movie My Sassy Girl and Windstruck is truly a force to reckon with.
She is Jun Ji Hyun (alternate spelling: Jeon Ji Hyeon), a popular Korean model and actress.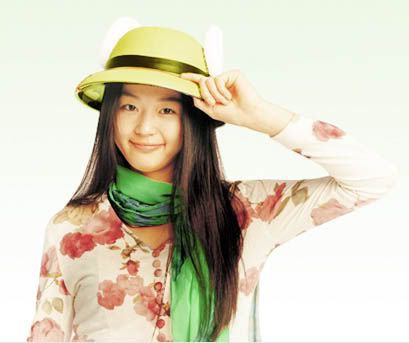 She was born Wang Ji Hyun on October 30, 1981 in Seoul, South Korea. She studied in the Department of Theater and Film at Dongguk University. She started her career as a model and she first appeared in a 1997 magazine. Later on, she appeared in comedy sitcoms, and then she made her debut movie White Valentine (1999). She started to become famous in her later film Il Mare (2000), and later on her fame culminated in the romantic comedy blockbuster My Sassy Girl (2001). In 2004 a follow-up to My Sassy Girl entitled Windstruck was released. It has a different story but with a plot strikingly similar to My Sassy Girl, it can be thought of as a sort of "My Sassy Girl Episode Zero". (Yup, many reviewers said that Windstruck has a "prequel-like" flavor.) Recently, she's filming Daisy (2005).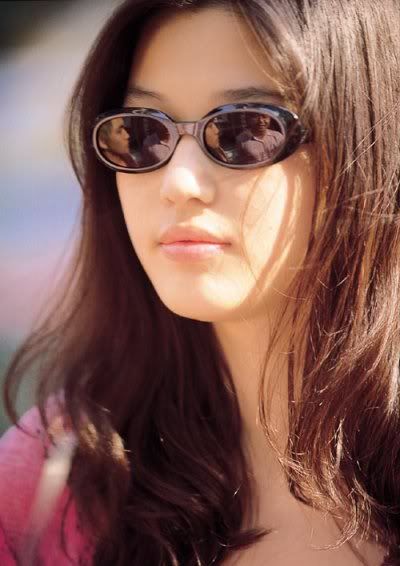 Speaking of My Sassy Girl, it's the film where Ji Hyun played the role of a random unnamed drunken and angry girl who got rescued by a hapless male student (played by Cha Tae Hyun) after nearly falling off the edge and getting killed by an oncoming train in a subway. The guy took the responsibility of looking after her and later on falls in love. The film became Korea's all-time highest grossing comedy film. So popular is this film that it spawned an American remake (remake rights purchased by DreamWorks) which will be released in 2006! Rachael Leigh Cook was rumored to play the leading role.
Ji Hyun seemed to be very much into commercial modeling, even today. She has made endorsements in many popular products including KFC, Giordano, Samsung, and Olympus. Nowadays, she's conquering the world of mobile phones and iPod.
Speaking of Giordano, she and fellow actor/model Jung Woo Sung were cast into a sexy hot Giordano Summer 2004 TV ad. (But to me, it looks like Spring Break 2004! Hehe… ) In that ad, Ji Hyun was in the midst of the other wet n' wild girls dancing and gyrating in a club. She looked like a goddess there! Unfortunately for her, Korea's advertising media censor board, the Korea Advertising Review Board (KARB), thought the TV ad's sassiness had gone a bit overboard and deemed it "too sexy for broadcast TV". The TV ad got banned from Korean TV in the process. (But you can still view the ad in the Giordano Korea's front store. There are lots of other ads in there, too. By the way, Jang Dong Gun ("Kenneth/Hyong-Chul" of All About Eve) joined the Giordano fold, too.)
(But personally, I still find the Giordano ad tolerable, and I find Ji Hyun absolutely gorgeous there. If the TV ad were to be aired here in the Philippines, I think it would pass the MTRCB (at least barely) and it would be a success. I think the ad is way more tolerable than some of our local liquor and fashion ads. The "Nakatikim ka na ba ng kinse anyos?" liquor billboard ad comes to mind. (Literally, the Tagalog sentence means "Have you tasted a fifteen-year-old before?". Unfortunately, it unintentionally carried an unwanted second meaning. In its original Tagalog context, the word "tasted" can also mean "had sexual relations", and the term "fifteen-year-old" can refer to either "an aged whiskey" or "a teenage girl".))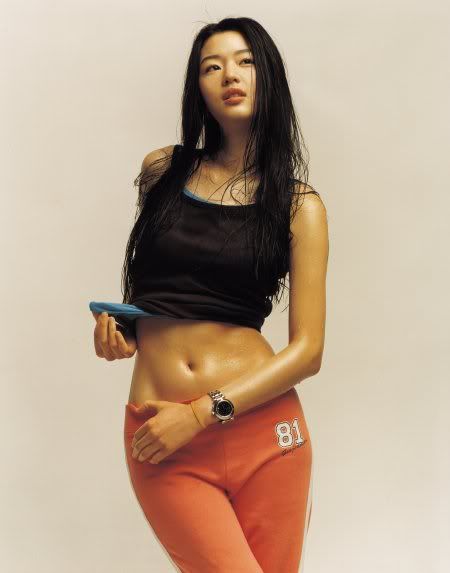 Ji Hyun's butt became a central issue too. Last year (2004), a survey colloquially termed "Clash of the Keisters" and "Battle of the Butts" was made to identify "Which entertainer has the sexiest rear-end?". In that survey, Jun Ji Hyun beat local singer Lee Hyo Lee on the women's side. Consequently, some women flocked to plastic surgeons to make their butts like Ji Hyun's or Hyo Lee's. Interestingly, on the men's side, superstar Kwon Sang Woo beat singer/actor Rain. (Kwon Sang Woo is "Cholo/Song-Joo" of Stairway To Heaven, and Rain is "Justin/Young-Jae" of Full House.)
Finally, Time Asia caught sight of Ji Hyun and acknowledged that she is "a force to reckon with". She "has earned the adoration of Asian audiences by acting tough", and "became Asia's favorite South Korean actress by shattering stereotypes". (Which also reminds me of Hong Kong's martial arts superstar and James Bond's female rival Michelle Yeoh.) Given enough time, Ji Hyun would become "the world's favorite girlfriend".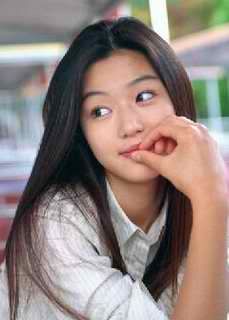 Here are some other facts about Jung Ji Hyun:
Height: 5′ 7 3/4″ (172 cm)
Weight: 105 lbs (48 kg)
Bloodtype: B
Religion: Christian
Hobbies: Watching movies, listening to music
Nickname: Food Girl, Queen Ji-hyun
Civil Status: Single
Career Highlights: Best Actress (2002), Daejong Film Festival
Filmography:
* White Valentine ("Hwaiteu ballenta-in") - 1999
* Il Mare ("Siworae") - 2000
* My Sassy Girl ("Yeopgijeogin geunyeo") - 2001
* Uninvited ("4 Inyong siktak") - 2003
* Windstruck ("Nae yeojachingureul sogaehamnida") - 2004
* Daisy - 2005
Dramas:
* Happy Together - 1999
* Fascinate My Heart - 1998
* The Season of Puberty - 1997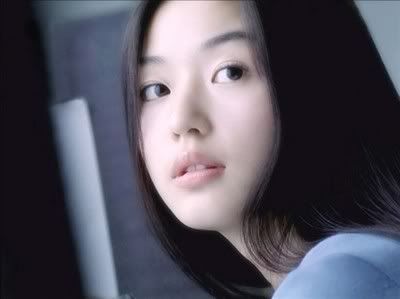 Update:
You can view Jun Ji Hyun's pictures in